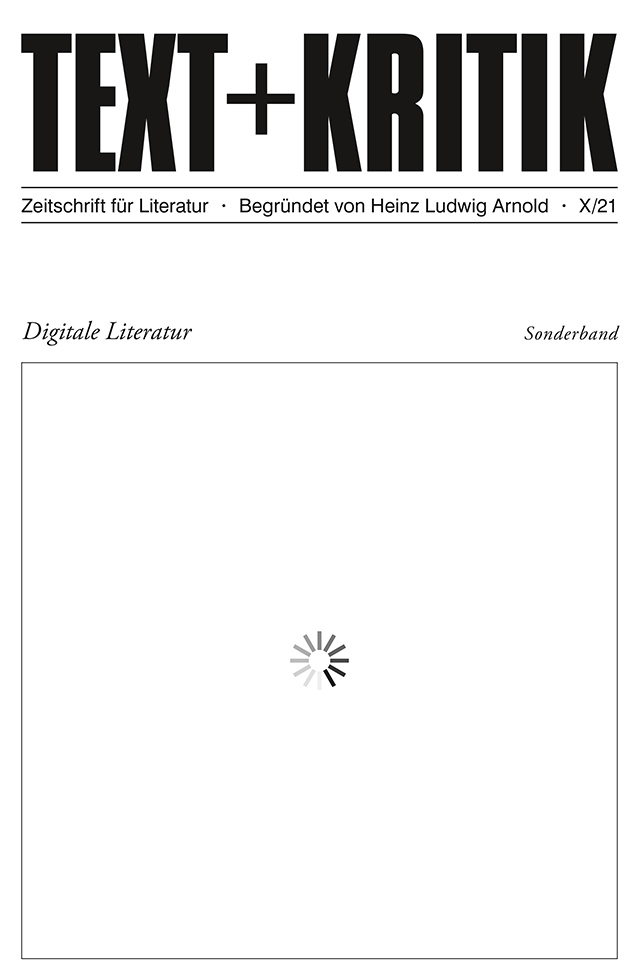 October saw the publication of Text+Kritik's special volume on Digital Literature, edited by Annette Gilbert and myself - the "II" in the title refers to the previous volume from 2001, which, after twenty years, is replaced by this one.
With scholarly contributions by Andreas Bülhoff, Dîlan C. Çakir, Karl Wolfgang Flender, Christiane Frohmann, Annette Gilbert, Berit Glanz, Anna Kinder, Elias Kreuzmair, Jasmin Meerhoff, Kathrin Passig, Nils Penke, Sandra Richter, Thorsten Ries, Alexander Waszynski and myself; with artistic contributions by Sarah Berger, Jasmin Meerhoff, Nick Montfort, Fabian Navarro, Allison Parrish, Kathrin Passig, Jörg Piringer, Selina Seemann, and Gregor Weichbrodt.
From the publisher's description:
Literature is as digital as the society in which it takes place. Today, reception and literary production are largely determined by digital technology.
And yet there are differences in the extent to which literature produced under the conditions of a digitally determined world also reflects this condition. In the contemporary novel, into which the digital enters primarily at the descriptive level, the parameters of classical literary form are rarely touched upon. Experiments on social media go further, and here the tools of the platforms produce new ways of writing. Finally, the tradition that can be called genuinely digital literature – which not only uses digital technology incidentally and instrumentally, but also produces its works essentially through computers, algorithms, or neural networks – has regained importance.
This special volume continues the first survey of digital literature in TEXT+KRITIK from 2001 and highlights the differences and continuities that have emerged in this field since then. As a discussion of the state of the art in both technical and literary terms, it is a snapshot of a literature in transition.
Bestellen kann man den Band hier.